Enhanced Personnel Safety
The Closed Cradle Safety Trailer enhances the safety of delivery drivers and other personnel responsible for the loading and unloading of flat bed vehicles. During the loading or unloading process an operative can use a ladder to access the front of the trailer and un-bolt the gates which then swing out and lock in to the end of the trailer making a completely safe, enclosed working environment.
The operative is then able to connect crane hooks or slings and manoeuvre on top of the flat bed without the fear of falling.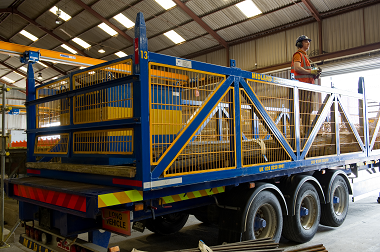 Safer Loading & Unloading
In addition to being able to load and unload material inside the safe enclosure that this system provides, safe loading and unloading can also be provided by the cradles being lifted from the flat-beds and placed on the ground without the need for anyone to climb on to the back of the vehicle.
When 4 safety trailers are used for a delivery, a lifting beam is also supplied pre-attached to the top cradles with chains easily accessible from ground level to attach it to a site crane.
This allows the higher safety trailers to be loaded and unloaded at ground level allowing easy access to the lower cradles as detailed above.
This also has the benefit of allowing for very fast loading and unloading of a vehicle and, if a site requests additional cradles, can be used to safely and neatly store site materials at strategic locations across the site thus reducing double-handling.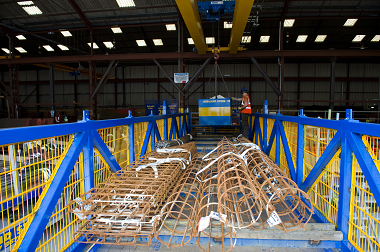 Enhanced load safety during transit
The Closed Cradle Safety Trailers provide an extremely strong and secure zone for materials to be transported by road. In addition, the internal mesh running along the sides of the cradle ensure that even small elements can be contained securely reducing the risk of debris slipping off between the stanchions.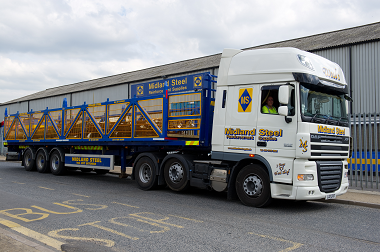 Increased load-carrying capacity 
Some products, such as prefabricated reinforcing cages, are expensive and unsustainable to transport due to their awkward size and shape. In the UK, on average, only 10 Tonnes of prefabricated cages are transported on a 13.5m flatbed trailer mainly because they cannot be safely stacked and secured on top of each other taking up the full permissible transportable volume.
The Safety Trailers enable cages to be transported in two layers. They can be safely stowed in each cradle and tied securely taking up the full permissible transport height.
The trailers can also be used to provide side support to tall cages enabling them to be transported on their side, for instance, rather than flat on the vehicle.
It is this flexibility that enables manufacturers to maximise their load transportation capacities and reduce vehicle movements.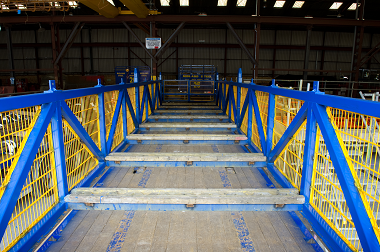 Summary
Enhanced Personnel Safety

Safer and more efficient loading of unloading

Enhanced Load Safety During Transit

Increased load carrying capacity

Safe and tidy onsite storage solution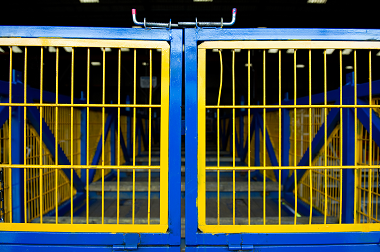 Case Studies

Click here to read our latest Safety Trailer Case Studies.
Technical Data

Click here to find out more about the technical specification.
Safety Trailer Video

Click here to watch the STS Safety Trailer demonstration video.